Regular price
$125.00 USD
Regular price
Sale price
$125.00 USD
Unit price
per
Sale
Sold out
Stand out on the dance floor with our stunning Red Cold Shoulder Dance Costume. This one-piece outfit is crafted from high-quality 4-way stretch fabric, ensuring maximum flexibility and comfort during your performances. The dress features a captivating design, with intricate red and gold floral applique adorning the front, adding an elegant touch to your dance routine.

The costume's unique mesh back and sleeves provide breathability and a touch of sophistication. The mesh fabric allows for better airflow, keeping you cool and comfortable throughout your routine. The cold shoulder design adds a trendy and stylish flair, perfect for dancers who want to make a statement.
One of the standout features of this costume is the cowl back detail. The draped cowl back adds an element of drama and elegance, creating a striking visual effect as you move on the dance floor. This detail sets this dance costume apart from the rest, making it a fantastic choice for competitions, performances, and showcases.
Product Details:
Material: 4-way stretch fabric
Color: Red
Style: Cold shoulder with floral applique
Back: Mesh back and sleeves with cowl back detail
Embrace your passion for dance and elevate your performances with our Red Cold Shoulder Dance Costume. Order yours today and get ready to captivate the audience with your talent and style!
Share
View full details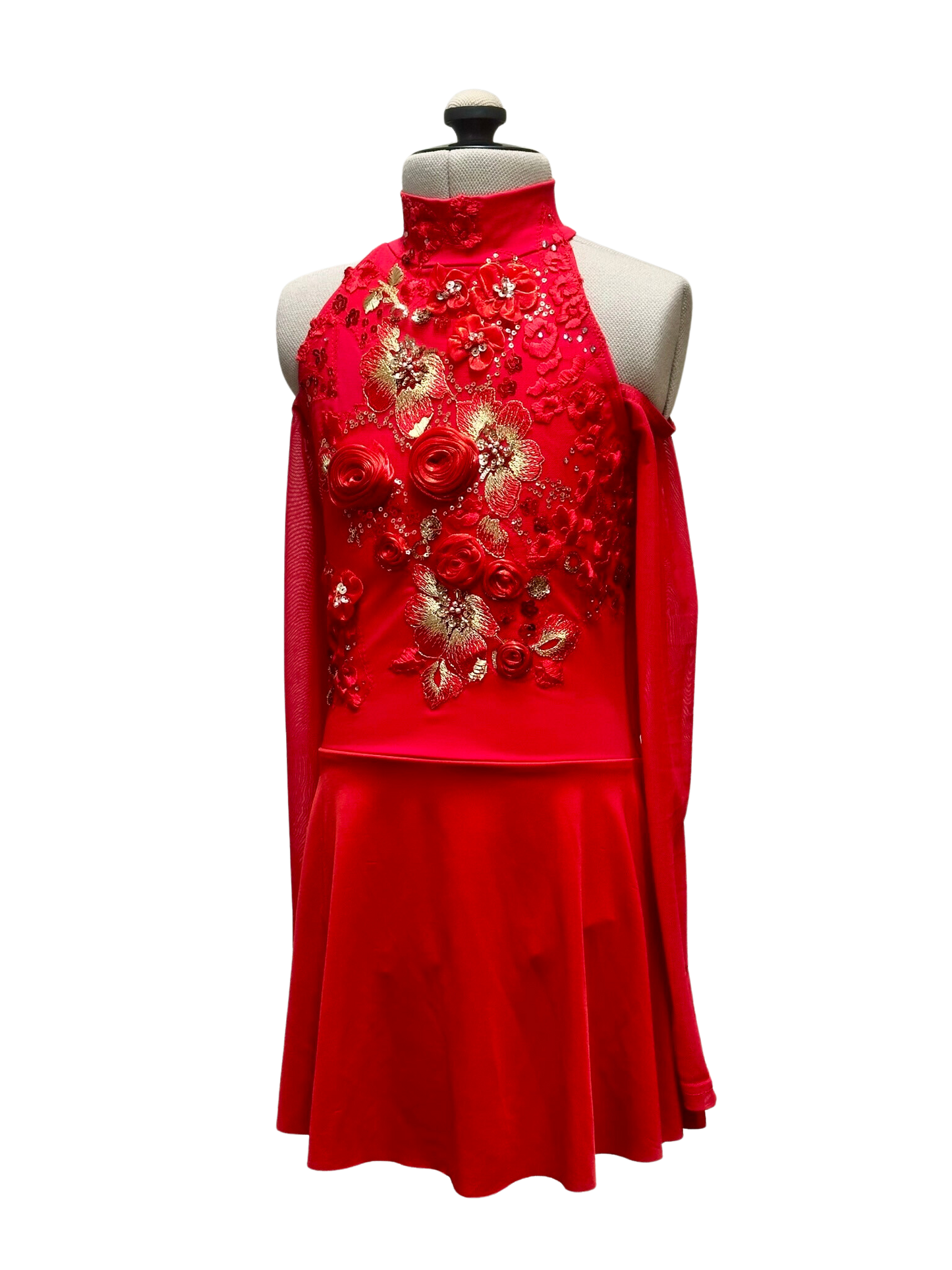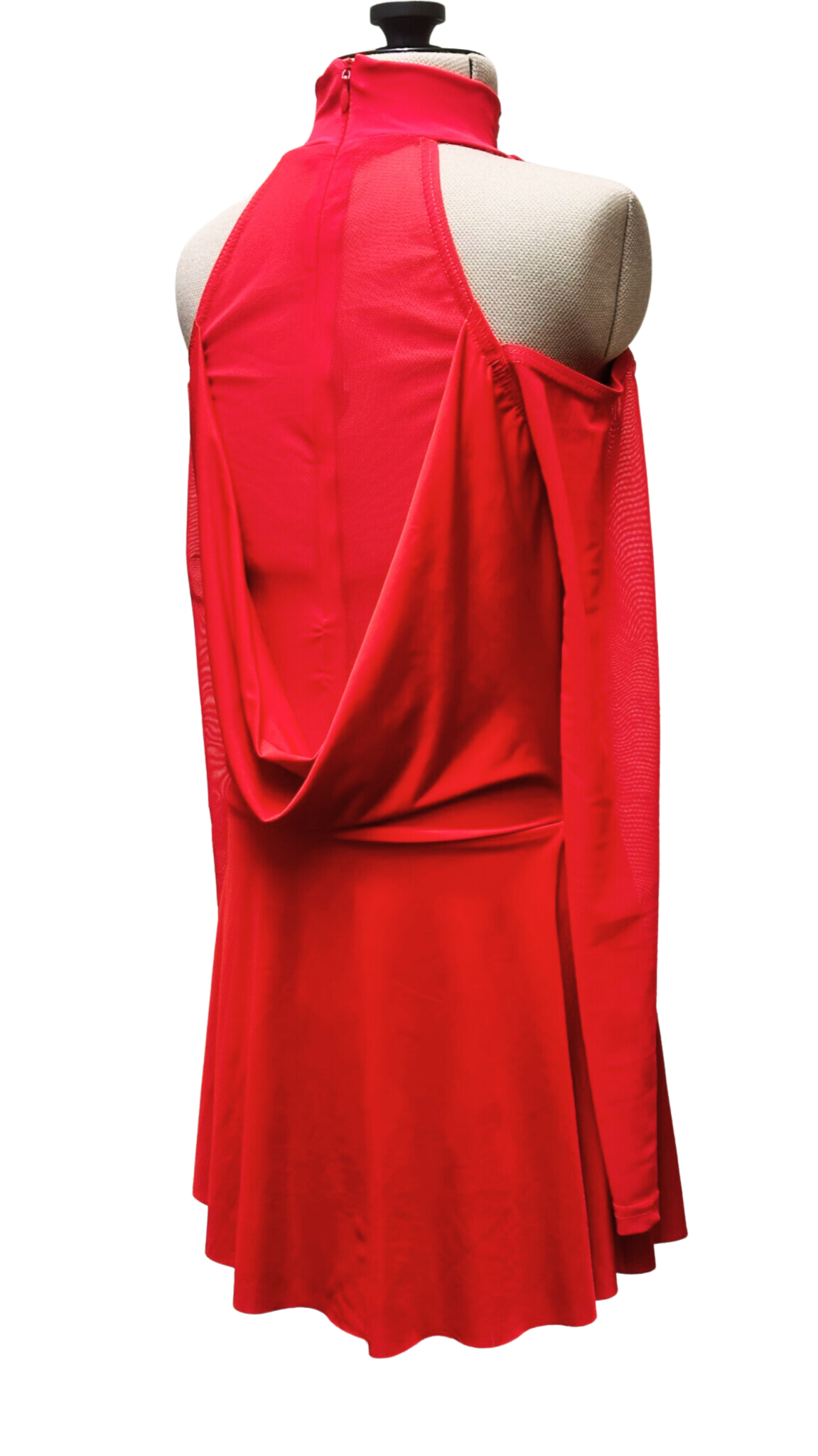 FAQ
Pricing FAQ

Ready For Stage costumes begin at $150 CAD & increase based on design & sizing

Custom Orders begin at $225 CAD & can increase based on design complexity & level of embellishing.

The Stacey G Experience starts at $450 CAD, which can include embellish & increase based on design complexity & level of embellishing.

Given that we are a custom creation studio, please keep in mind that when ordering past designs/remakes, the final costume may differ slightly. A design sketch is not provided for remakes.

A formal price estimate will be provided once your design & measurement form is submitted/received. If you are working with a pre-determined budget, please include this with your design form submission
Custom Creation FAQ

All Custom Creation reservations require a $100 CAD NON-REFUNDABLE per costume/outfit deposit to secure production time & ship dates.

All sales are final. Due to the custom nature of our items, returns are not accepted on costume items.

Please understand that we do not re-create designs from catalogues and/or other designers. Of course, we can draw inspiration from our creative colleagues & create a unique Stacey G spin!

While we can recreate By Stacey G previous designs, keep in mind that there may be variations based on fabric availability & embellishments. A digital design sketch for remakes is not provided.

Balances MUST BE PAID upon receipt of your final invoice.

Costumes are not shipped/delivered/available for pick up until final balance is paid.

By Stacey G Custom Creations is not responsible for shipping delays caused by shipping carriers and/or inclement weather.

MEASUREMENT/ DESIGN DETAIL DUE DATES

You will receive your detail/measurement form via email _____weeks prior to your selected ship date. (Please keep an eye on your junk folder too!) Forms must be submitted within TWO WEEKS of receiving. Once submitted, you will receive a sketch of your costume design(any past costume remake order will not receive a sketch). You will have ONE WEEK to approve or request any changes to your design.

If you do not meet these deadlines, we reserve the right to cancel your order and you will forfeit your deposit.

Custom orders

will also receive an email to schedule their design consultation call 15-16 weeks out from ship date.

All measurements submitted are FINAL

. We are not responsible for an imperfect fit due to inaccurate measurements or growth spurt in your dancer. Please give measurements you want the costume made to, so add in any room for growth you think your dancer will need. Alterations will not be provided.
Product Chart
Costume Care

PRO TIP

Before washing, put garment in a Ziploc Bag, and place the
bag in the freezer over night. This kills the bacteria that causes mildew and odour.

Sequins and/or Marabou Trim

Sequins and trim must be removed before immersing your garment in water. Gently wash your costume in cold water and lay flat once the embellishments have been removed. Trims can be reapplied after the garment is completely dry.



Organdy/Tulle

We do not recommend you wash your costume if it has crinoline. Getting the fabrics that crinolines are generally made from wet will result in losing the crisp finish that organdy & tulle materials are known for. No one wants a droopy crinoline!!

We are happy to answer any questions you may have in regards to caring for your costume, we are an email, or phone call away.

                                              

 If your costume is constructed of lycra or velvet, it can be machine washed on the gentle cycle in cold water, and laid flat to dry. It is best to avoid dryers, as it breaks down the elasticity in the garment over time.


Costumes constructed with mystiques (shiny material), or other heat-applied foils can also be washed on the gentle cycle in cold water and laid flat to dry. Multiple washes may cause the metal foil finish to dull. If your garment has some glitter; turn the costume inside out, hand wash in cold water, and lay flat to dry. Once again, over time you may notice that the glitter sheds.
Size Chart

Ready To Wear Size Chart

| | | | |
| --- | --- | --- | --- |
| Size | Bust | Waist | Hip |
| XS | 31.5 - 33.0" | 27.0 - 28.0" | 34.0 - 36.0" |
| SM | 34.0 - 36.0" | 29.0 - 31.0" | 37.0 - 39.0" |
| MD | 37.0 - 39.5" | 32.0 - 34.0" | 40.0 - 42.0" |
| LG | 40.0 - 41.5" | 35.0 - 36.5" | 43.0 - 44.5" |
| XL | 42.0 - 45.0" | 37.0 - 39.0" | 45.0 - 47.0" |

 

Dance Size Chart

| | | | | |
| --- | --- | --- | --- | --- |
| Size | Bust | Waist | Hip | Girth |
| Child 4 | 23 | 21.5 | 23 | 41.75 |
| Child 6 | 25 | 22.5 | 25 | 45.75 |
| Child 8 | 28 | 24 | 29 | 48.5 |
| Child 10 | 29 | 24.5 | 30 | 49.75 |
| Child 12 | 30 | 25 | 31 | 51 |
| Child 14 | 31 | 25.5 | 32 | 52.5 |
| Child 16 | 32 | 26 | 33 | 54 |
| Adult XX-Small | 32 | 27 | 34 | 55 |
| Adult X-Small | 33 | 28 | 35 | 56.5 |
| Adult Small | 35.5 | 30 | 37.5 | 58 |
| Adult Medium | 38 | 33 | 39.5 | 60.25 |
| Adult Large | 40 | 36 | 43 | 62.5 |
| Adult X-Large | 45 | 40 | 48 | 65.5 |
| Adult XX-Large | 47.5 | 43 | 52 | 69 |